Frequently Asked Questions
You got questions. We got answers.
Direct store delivery (DSD) is a process where a distributor sells products directly to a retail store (typically through the backroom receiving door) and merchandises that product on the store's shelves.
The responsibilities of a distributor are to: sell fresh baked goods to grocery and related retailers, restaurants, institutions, and convenience stores; merchandise, rotate, and remove expired product from the shelves and displays daily; develop and maintain relationships with store owners/managers; acquire new customers and increase product sales within the defined sales territory.
Distributors purchase products from Bimbo Bakeries sales centers (the location where product is picked up 5 days a week by the independent distributor) at wholesale costs and resell these products at a higher price to customers within a defined sales territory.
Purchase of the distribution rights (90-95% financing available for most buyers)
Delivery vehicle (typically a box truck, white in color if advertising for Bimbo Bakeries)
Business Insurance (differs by state, but typically includes general liability, auto, cargo coverage, and inland marine – each having minimum coverage amount requirements)
Fuel and vehicle maintenance
Handheld computer and printer (available for purchase through Bimbo Bakeries)
Formation of incorporated entity
Possible additional expenses: accounting, legal, employees, time off relief (these services are not available through Bimbo Bakeries)
Distributors are not paid wages, salary, or commission by Bimbo Bakeries. They purchase products from Bimbo Bakeries at discounted prices, then resell those products at a higher price to customers within a defined sales territory. Because distributors are business owners, they are responsible for business expenses. The amount of money earned depends on the distributor's ability to effectively manage their business expenses while increasing sales.
The price of a distributorship can vary significantly. All routes owned by Bimbo Bakeries are calculated by multiplying a sales multiple by the 52-week net sales average for the route. For routes sold by an existing Bimbo Bakeries distributor, the seller will determine the asking price.
While a distributor is a business owner and free to operate when they choose, the hours of operation will be determined by the customer's service requirements. Most distributors operate seven days a week and start in the early morning. Distributors are free to hire employees.
Distributors are responsible year-round to fulfill the contractual obligations of the customer. Distributors may choose to hire employees to operate their business, so they can take personal time. Some distributors agree to cover each other's business operations. The distributor/owner is ultimately responsible for the service provided to the customer even when an employee or another distributor is providing coverage.
It takes roughly 9 weeks to purchase a route. The length of time is dependent on how long it takes the incorporation paperwork to be received by BBU.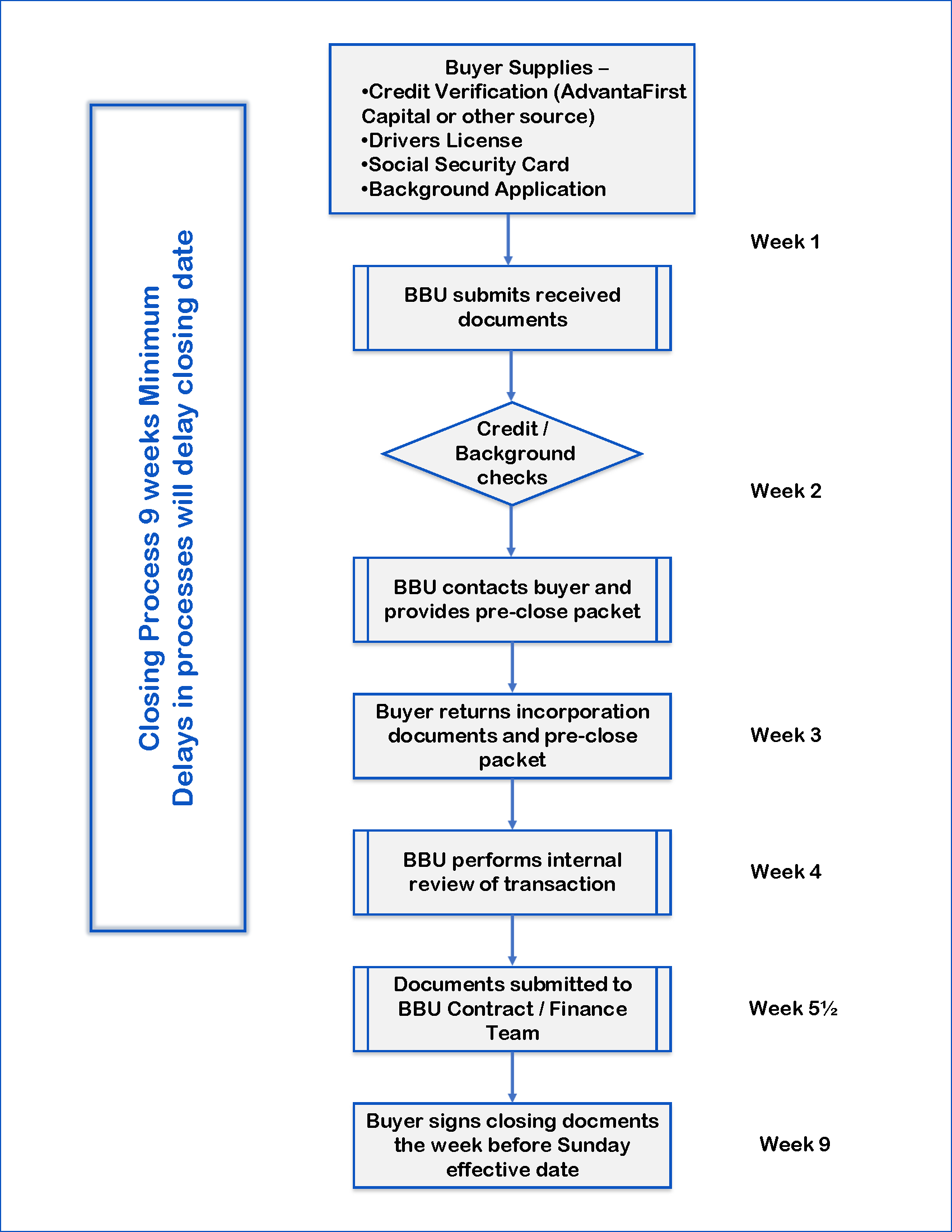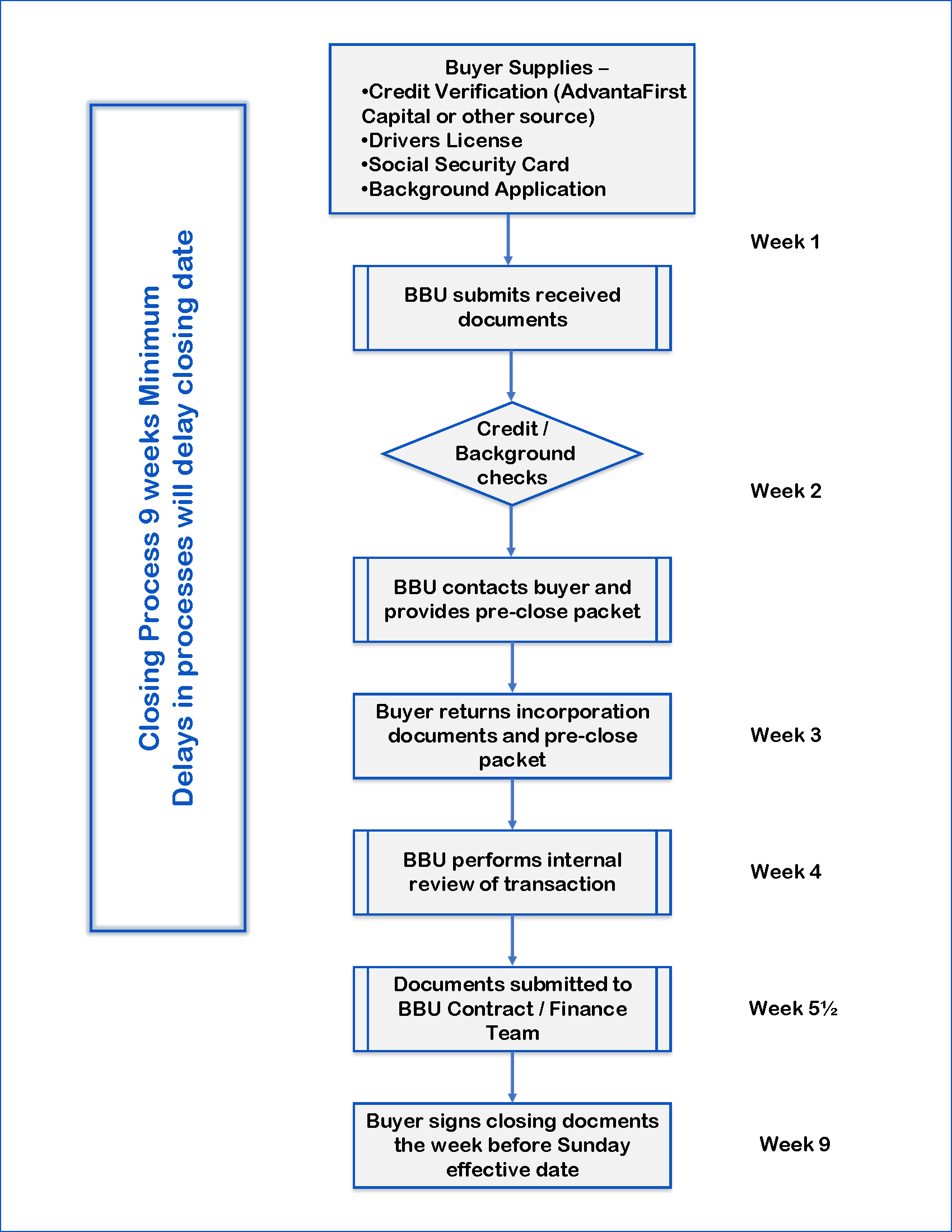 The route purchase process begins with the buyer going through background and credit verification, applying to Advantafirst Capital or any other source of funding, and submitting a copy of a drivers license and social security card. About 1 week is taken to receive these items back. During week 2, a BBU contact will provide a pre-close packet to the interested buyer. A week later (week 3) the potential buyer supplies incorporation paperwork and returns the completed pre-close packet. During week 4 and 5, BBU performs an internal review of the transaction and submits the information to the finance team. Assuming everythign is approved, a closing date is scheduled roughly 3 weeks out. The route purchase date will be effective on Sunday of the identified week. A volluntary orienation is offered beginning 3 weeks before the Sunday of route ownership.